04.23.2000
Another quick update from Leonie! CLICK HERE!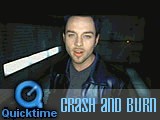 Also, I've decided to combine the site updates and savage news together to make it a little more user-friendly. Yes, onto the site updates. I've finally got the banner exchange working. If anyone has a Savage Garden site they would like to promote, here's you chance! Email WebGuy Matt at: HughJazz@home.com

Wait! There's more, I have uploaded videoclips from Savage Garden's new smash hit Crash and Burn on the server, so check it out! The screen shots to I Knew I Loved You and Animal Song are finallu put on thumbnails, so ENJOY! Last but not least, I'd just like to remind everyone that Savage Garden will be on the Donny and Marie Show on May 5, 2000 so don't miss out!



04.15.2000
I have also joined the Savage Garden Dream Webring, so please check out the other savagers sites!

Savage Garden Australian Tour Dates Courtesy savagegarden.com
Friday, 28 April - Cairns Convention Centre
Saturday, 29 April - Townsville Entertainment Centre
Tuesday, 2 May - Melbourne Melbourne Park
Thursday, 4 May - Adelaide Entertainment Centre
Saturday, 6 May - Perth Entertainment Centre
Wednesday, 10 May - Canberra Royal Theatre
Saturday, 13 May - Sydney Entertainment Centre
Tuesday, 16 May - Newcastle Entertainment Centre
Wednesday, 17 May - Wollongong Entertainment Centre
Saturday, 20 May - Brisbane Entertainment Centre
Wednesday, 24 May- Launceston The Silverdome
Thursday, 25 May - Hobart Derwent Entertainment Centre

Special Guest is Vanessa Amorosi

04.01.2000
Savage Garden update from Leonie! CLICK HERE!
Also, it's that time again! Yes, The Teen Choice Awards is coming and please vote I Knew I Loved You for best love song! Vote HERE! And remember to catch the show, Summer 2000, on your Fox Network!

03.11.2000
I have also joined the TangledWeb Webring, so please check out the other savagers sites!

Crash and Burn is FINALLY released in North America!!! Although we do not get MTV in Canada, vote for I Knew I Loved You on TRL! Or send in your requests for MuchOnDemand at ondemand@muchmusic.com



02.23.2000
Their self-titled album has been RIAA certified 6X PLATINUM after two years of their release! Also, their sophomore album, AFFIRMATION is achieved 2X PLATINUM! CONGRATS!

02.07.2000
On Sunday, 6 February, 2000, the site had a little mishap from the web server and the site was down for the whole day, the WebGuy and Tripod sincerely apologizes for any convieniences caused. =(
02.01.2000 Also, I have also uploaded the multimedia page so it's up and running smoothly. By the way, I've decided not to put audio files cuz I assume you people already have the cd right? lol. So yeah, there's only small video clips from their official Sony site.
I Knew I Loved You peaked at #1 for multiple weeks on the Rick Dee's International Chart, VH1, Casey Kasem's American Top 40, Billboard's Hot 100, and Canada's MuchMoreMusic! CONGRATS!!!
Also, Savage Garden's second single on the sophomore album, Crash and Burn, is about to be released!! It has already hit airwaves in the UK and ITALY.. but us North Americans, just have to wait!

01.21.2000
Whoa! Talk about updates! Jaunary was a big one! The picture gallery is finally uploaded! Except for Dan and Darren's Individual galleries, where those are temporarily directory-formatted.
The single, "I Knew I Loved You" is available in stores everywhere.
The single contains the following mixes:
1. Album Version (4:10)
2. 7" Mini Me Mix (8:24)
Produced: Walter Afanasieff
Co-produced: Daniel Jones and Darren Hayes
Arranged: Walter Afanasieff, Daniel Jones and Darren Hayes
All vocals arranged: Walter Afanasieff and Darren Hayes

7" Mini Me Mix:
Remix and Production by Daniel Jones and Tim Morris
Additional Programming by Greg Bieck
Mixed by Dave Way
Vocals by Darren Hayes
12.02.1999


AFFIRMATION is finally out worldwide! Their second North America full album peaked SIXTH in the Billboards! And their debut single in Affirmation, I Knew I Loved You is currently in sixth position!

A video for the first single, I Knew I Loved You has been shot and features a special appearance by Kirsten Dunst. Although we do not get MTV in Canada, vote for I Knew I Loved You on TRL! Or send in your requests for MuchOnDemand at ondemand@muchmusic.com
Savage Garden Fan Club
The Official Savage Garden Fanzine
GPO Box 145
Brisbane QLD 4001
Australia
AFFIRMED LINKS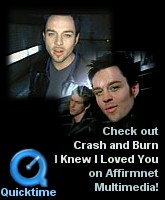 Home Catch up to their lastest news, and site updates!
News Archives Check out the news items about the old happenings of Savage Garden
Multimedia Video files from their debut and sophomore album!
Biography All you need to know about Daniel and Darren!
Gallery All the pics them and now!
Lyrics Check out their lyrics from their debut self-titled sophomore album "Affirmation".
FAQ All those dying questions you'd like to ask the webguy!
savagegardendream Mailist Site Check out the site of the mailist I moderate! You can also subscribe to the list as well!
Guestbook How can you forget the most important! C'mon give me your input!
Banner Exchange Want to promote your Savage Garden site? Here's a golden opportunity!
Links Check out my other savage links!
Email If you have any questions or concerns, email WebGuy Matt at: HughJazz@home.com