Updated: 01.02.2000
You have any questions to ask Matt himself?? Email him at hughjazz@home.com
You've mentioned the a site called MCHQ. What the hell is it?
Um... Savage Garden, along with Britney Spears, No Doubt, Sugar Ray, and Monica were all used to be on the MCHQ site. (MCHQ- Matt's Celebrity Headquarters)... MCHQ was established in October 1998, at the time Savage Garden was the only celebrity on the network. And the other's followed. In November of 1999 I decided to shut down the site becuase of the lack of time I have and that I no longer have any interest in the other celebrities. So now, it's just an independant site....
Where can I reach Savage Garden?
You can write them via snail mail at:
Savage Garden Fan Club
The Official Savage Garden Fanzine
GPO Box 145
Brisbane, QLD 4001
Australia
or you can email them at: savage@village.com.au
PLEASE don't send it to the WebGuy!!... I don't know Dan or Darren. I, like you, am only a dedicated fan.
Intrested in banner or link swapping?
YES YES YES!!... DEFINITELY!... if you're curious... to see the banner CLICK HERE! All you have to do is email me (HughJazz@home.com)about it, give me the banner URL and it's SET!.. just stick this code on ur page:

Matt, tell me about yourself!
Well, I 'm a fine lookin' guy from the T.O.! 'nuff said!
Um...seriously!
I am very serious! What 's so hard to believe? Um.... there's not much to say.... I'm in grade 11, from Toronto, Ontario, Canada, 5'8", enjoys baseball (especially the Jays and the NY METS) and I listen to all kinds of music, except hip hop amd I play the Alto Saxophone in the school band (SAXES RULE!! UNLIKE CERTAIN TUBA AND TRUMPET PLAYERS-- all jabroni trash!)
What does "Savage Garden" mean?
According to Riley's Savage Garden HomePage, the creative name orginated from a line in one of Anne Rice's vampire novels. She describes their world as a Savage Garden because it's beautiful and majestic, but at the same time ferocious and wild. Darren thought it applied to their music because it has two levels, it's catchy pop music, but most of the songs also have deeper meanings in them.
Can you pat your tummy and rub your head at the same time?
Um.... after days of practicing... I've fully mastered the fine art of patting my tummy and rubbing my head and also rubbing my tummy and patting my tummy! Isn't that cool or what?
What music have you been listening to?
For some weird reason, I have this sudden change in music and I'm really intrested in ELECTRONICA like Robert Miles. Fable is an amazing song (NOT THE MESSAGE VERSION!) Blue is currently my favorite song.
THE %$@#en pop up advertisements are REALLY annoying!! is there something you can do?
Yes!! The trick is.. DON'T CLOSE THE POP UP WINDOW!!! just minimize it.. and viola!! NO MORE FRIGGIN' ADS!!!

Why do British people don't sound British when they sing?
You know what? I don't know!... A VERY GOOD QUESTION!
PEPSI or COKE?
Of course PEPSI!! Have you guys tried the PEPSI taste challenge? I honestly taste no difference!... but PEPSI's got the cool ads! and they have STAR WARS as their promotion solution!
Speaking of soft drinks, does Barq's have bite?
What the heck does it mean anyways? Barky (the dog) is cool!!! It was my favourite drink until I got sick of it. Now, it's C'Plus' TAHITI TREAT!!
If another Spice Girl had to leave, who would it be?
ALL OF THEM!!... god, i hate them! but if i had to, i'd say POSH SPICE! .....the physical image of the other three girls seem to improve (not as bitchy looking), Victoria's image seemed to downfall.
Will you be adding more celebrities to the network?
I'm afraid not. There's just too much to handle with school and all. I barely have time to do the one's that already exist!
Which came first, the chicken or the egg?
Hum... from Matt's research, we believe it is the egg. Why? Don't ask!
WHO REALLY ASKS THESE STUPID QUESTIONS?
Um...my loyal visitors of course! And there not such thing as a stupid question!
I've gotta compliment on your graphics. What image editor do you use?
Um... I've been using PAINT SHOP PRO.. It's a wicked program... See it for yourself! Download it at DOWNLOAD.com!
AFFIRMED LINKS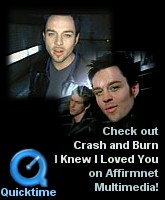 Home Catch up to their lastest news, and site updates!
News Archives Check out the news items about the old happenings of Savage Garden
Multimedia Video files from their debut and sophomore album!
Biography All you need to know about Daniel and Darren!
Gallery All the pics them and now!
Lyrics Check out their lyrics from their debut self-titled sophomore album "Affirmation".
FAQ All those dying questions you'd like to ask the webguy!
savagegardendream Mailist Site Check out the site of the mailist I moderate! You can also subscribe to the list as well!
Guestbook How can you forget the most important! C'mon give me your input!
Banner Exchange Want to promote your Savage Garden site? Here's a golden opportunity!
Links Check out my other savage links!
Email If you have any questions or concerns, email WebGuy Matt at: HughJazz@home.com